I want to thank everyone who came and hopped with me and all the other super talented crafter in the hops. So let's get to some winners!!
The winner of the Thank You blog hop to thank the FABULOUS Madeline over at The Shabby Vanity and the cute scrapping supplies is.............
WOW.. what an adorable card!
I am already a follower of your blog
The next winner of the Bitten By the Love Bug hop....
and the choice of either 5 free files or 5 digital stamps or the newly released Snowy Delights package generously donated by Melin over at
How cute. I sooo need me some PK stamps!
Congrats to my winners! I've sent you both e-mails, so please respond by February 4th so I don't have to pick more winners :(
And of course, since I am addicted to blog hops, I have a couple more coming up: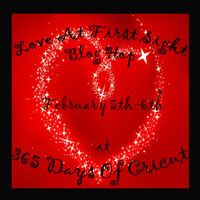 Hello everyone I am hosting my first ever blog hop called the "Love At First Sight Blog Hop", in honor of meeting my hubby 8 years ago and yes it was love at first sight! I hope that you all can join me in my celebration along with 22 very talented ladies, there will be MANY Grand Prizes! We will be making projects for people we love. The hop will start at my blog www.365daysofcricut.blogspot.com on February 5-6. Please feel free to take the button and add it to your sidebar if you like and feel free to invite more guests =)
Here's the amazing line up:
With Valentine's Day coming soon we are sharing some wonderful ideas and inspiration for your viewing and crafting pleasure! Each Design Team member will be featuring an original project each day (Saturday & Sunday) made especially for this hop. Make sure to check out each DT member's blog and collect the special letter there. There will be prizes along the way at our DT members' blogs, AND there will be some
nice PRIZES with a few different ways to win at CookingWithCricut.com!
I'm really excited for these hops. February is a BUSY month for me. I have 3 birthdays in my family this month! I will slowing down on blog hops because of this, and I have a lot of things coming up here on my blog, and in the "real world" I have lots of stuff in the works! I am so excited, and I can't wait to share it with all of you!! Thanks, and I hope everyone had a chance to craft today :o)