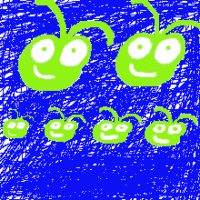 It's Thursday!!!!!!! That's a good thing for a couple of reasons, 1-the weeks almost over, and 2-it's Thankful Thursday Challenge time!!!!!!!!! First, let me announce the first winner of the first TT challenge. The crafter who wins the first chance for the Grand Prize drawing for the month of February is...............
Check out her SUPER cute Valentine treat project
HERE
.
Congrats Jean! You are now entered into the drawing for the gift card!!
Thank you SO MUCH to everyone who entered!!!

AND NOW FOR THE NEXT CHALLENGE:
For this challenge write a story (or have the kids in your life write it) about someone you or the kids in your life love. This can be journaling on a layout, or the kids can write a little story on some paper and draw a picture to go with it.
I'm sorry my project is missing, my little 1 year old decided he didn't like his sister's projects and decided to "remodel" it! So we will make another one and have to add pictures later on. But my fabulous design team member Cheryl has an A-DORA-BLE project so inspire you all. Please click on her name to go to her blog for all the details: **Kassidy's gorgeous project just added!!**
"My boys and I made this "Book of Love" project up in an afternoon. Their favorite part was decorating them!! Make them together and help you child fill them with reasons they love each other, a parent, grandparent etc. Hop over to my blog for all the details on how to make this project with your kiddo today! :)"
"I made this to fit inside a 12x12 frame and set out with all my other Valentine decor. I can't wait to use it next year. This was so fun to make that I will be making one for St. Pattys Day."
So just a reminder, here are the challenge details:
The project must not be made more than a week before the challenge.

Please link directly to your project, not just to your blog.

E-mail your project to me at crazyaboutcricut at hotmail dot com if you don't have a blog and I will be happy to enter it for you :o)

I will post a challenge every other Thursday and at the end of the month I will choose a winner.

So if people join in on both challenges for that month they will get 2 chances to win.

People will have 2 weeks to enter.

Everyone will have until 8 p.m. PST on March 2nd to enter the challenge.

For the Thursdays in between challenges I will be posting simple ideas for family activities, or ideas of things to do together.
ANYONE/EVERYONE CAN JOIN IN THIS CHALLENGE. YOU DON'T HAVE TO HAVE KIDS. IT JUST NEEDS TO FIT THE CHALLENGE, AND WILL HOPEFULLY HELP YOU SPEND TIME WITH FAMILY/LOVED ONES :O)
So go grab your family and get crafting!! And thank you for joining us for Thankful Thursday :o)