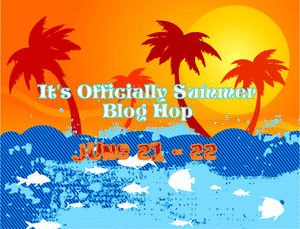 Hi Everybody!
Hopefully you just came from visiting Nancy at

http://blog.fancywithnancy.com/

. If not, please head over to see Jill at http://thescrapoholic.blogspot.com/
to start from the beginning.
Whoooo hoooooooo, summer is finally here! Jill (aka The Scrapoholic) was awsome enough to let me be in her blog hop and help celebrate the start of summer! While I love the rain, I am happy to be able to start hitting the beach, camping, and having campfires (mmmm, and smores......) at night! So here is the project I came up with:
I apologize, I am having technical difficulties, and will have my project up shortly!
And of course there's gotta be some BLOG CANDY!!!
Wouldn't you like to win these super cute crafty supplies?!?!?! All you have to do is:
*Leave a comment on this post.
*Become a follower (pleeeeeeeeease!)
*For an extra entry, come friend me on my Facebook page! Make sure you leave a SEPARATE comment on this post letting me know you did :oD
In case you get lost or need to stop along the way, here's the lineup: