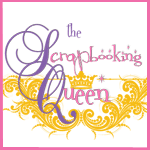 Hi Everybody!


Have you HEARD the news??

Paper Playtime's DIGI MONDAY has MOVED to a

NEW Location!

You can now play along with Digi Mondays on the last Monday of the month, over at my good friend's blog THE SCRAPBOOKING QUEEN . She's renamed it

THE QUEEN'S ROYAL DIGI CHALLENGE!

Make sure you come

back tomorrow and play with us! I have a cuuuuute DT project for the challenge to show all of you!





Hope everyone has a chance to craft today!