Hi Everybody!
Today is a good day! It's not only time for the next 52 Tags in 2012

Challenge.....
it's also time for me to share .............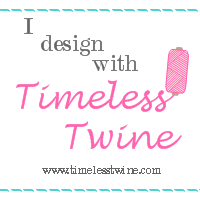 another

Timeless Twine

design team project with you! I have a twine-fully happy tag to share today.
Here are the details:
*B is for Boy Cricut cartridge
*paper from my stash
*For the 52 Tags Challenge, o

n the

back we had to write the name of our

favorite song, who sings it, when it was released, and why we like it. I based my tag on the song "Good Life" by One Republic.
We were having a lot of changes to our life the past 6 months, and it was really trying at times. Sometimes it was hard to remember why we were doing what we were doing. We had to remember it was to have a better quality of life. And in the middle of it all, this song came out, and it reminded us that we had a good life, and that it was only going to get better. My favorite part is at the end when he clearly sings "Tell me what there's to complain about." This song will always hold a special place in my heart :) Now onto my project!
*Here is my tag at first. Hmmmm, still missing something.......
*Ah-ha! We need...........
*..........more twine!!!!
*I took a strip of Terrifically Tacky Tape (the red double sided tape) and layed that along the edge.
*Then I took small pieces of
Aqua Blue
twine and made little loops, and attached it to the line of red tape.
*I added a bow and button for the finishing touch :)