Today is a good day! It's not only time for the next 52 Tags in 2012

Challenge.....
it's also time for me to share .............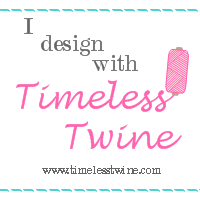 another

Timeless Twine

design team project with you! And since I always make my projects work as hard as they can, it's also.............
This is not a hop... it is just a group of us crafters that have all promised to ONLY post Disney related projects on our site this week (including Hello Kitty, Pixar, Pooh, Sesame Street, etc.) Some people might post a new project every day; others may only get a few projects out all week, but we will all be showcasing DISNEY (or some other animated character).
I have a twine-fully happy tag to share today.
Here are the details:
*Best of Pixar Cricut cartridge
*Timeless Twine = Olive Green
*Jaded Blossom = sneak peek of release that starts TODAY @ 4 pm PST!!!
**********************
*I thought this green twine would work perfectly as seaweed for Nemo :O)
*Luckily I also had some fishy brads that are great accents!
*I also put him on an Action Wobble!!
Don't miss the new stamp release from Jaded Blossom
that starts TODAY @ 4 pm PST!!!
I hope you enjoyed my project! Don't forget to check out the
Timeless Twine blog for more twine-ful inspiration :)
You can also check out the 52 Tags In 2012 Challenge.
Please click

HERE to enter.
TFL, and have a twine-tastic day :O)
*****************************