Hello Everybody!
Welcome to the Celebration! Today we are Celebrating Crystals Birthday! If your here from Trixie, then your in the right place. If not, you may wanna start at the beginning. I have the entire line up at the end of this post.
Here is what I made for the Birthday Girl!
*Happily Ever After Cricut cartridge - Bell silhouette, title
*Art Philosophy Cricut cartridge - scalloped oval
*Silhouette Store -

book treat box
*Jaded Blossom - Birthday Candies
*Stampin' Up! - patterned paper
*Recollections - solid cardstock, bling
*Crystal loves to read, and she likes Beauty and the Beast too, so I thought this was the perfect book for her! Of course there are some hidden treats inside.......
*Pink and brown are one of her fav color combos!
*I scored and drew some lines onto the edge of the white "pages".
*I used her favorite stamps (Jaded Blossom of course!) to decorate the treat bag inside.
*Spree's are one of her favorite candies :OD
$15 Jaded Blossom Gift Certificate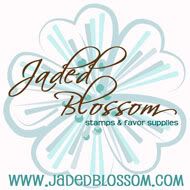 $15 SVG Cutting Files Gift Certificate
Some FREEBIE SVG Cutting Files as you hop along, that will be available for 24 Hrs Only! So make sure you hop along and comment thru all the blogs for a better chance of winning and getting em' freebie files!!
Next up on the hop is
Kim

!!
Hop Line Up
Michelle
Candace
Ann
Jamie
Kate
Ashley
Jaymie
Trixie
Jenny
Kim
Crystal