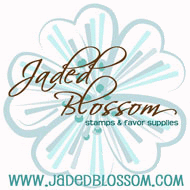 Hi Everybody!
Today the new challenge from
Jaded Blossom

starts, whoo hooo! And even better, it's also an early start to release week!!
We have the "
Gotta Have it Now
" Package for
$105.99
September Release will include:
4 - 4 x 6 Sentiment Stamp Sets with Image and Candy Stamps included 2 - 4 x 4 Stamp Sets (Candies/Poems)1 - 3 x 4 Stamps1 - Gift Card Die
1 - FREE 2 x 3 Stamp for customers that spend $40 or more before Taxes and Shipping!
NO PREORDERS! NO BACKORDERS! No waiting WEEKS for your stamps.
WE WILL SHIP ASAP!!!
(Monday is a holiday, so orders will ship on Tuesday.)
Now onto the challenge! This month's
Jaded Blossom's Challenge
is Gift Card theme! We are showcasing the new DIE for this challenge. Here's what it looks like:
*The possibilities are AMAZING and ENDLESS with this die!
Here is the project I created:
(Click HERE to see what Cricut cartridges have a 3D popcorn box on them.)
*George and Basic Shapes Cricut cartridge - popcorn shapes (are actually flowers!)
*Core'dinations - solid cardstock
*You can use this die just about anywhere, including 3D projects!
*I altered the cut a bit by widening the box a little bit so the die could fit.
*This popcorn box cut comes in 2 parts, so I ran the die through my Cuttlebug before I put the two halves together.
*Here's a closeup of what the die looks like. Love that stitched edge!
*I added popcorn pieces on the inside of the box for some cool dimension.
*I also used an image from the Icon Candies set, and paired it with a sentiment from the Sweet Baby set to fit the movie theme.
I hope you liked my project!
Don't forget to head on over to
the
Jaded Blossom
blog
t
o see what the rest of the
Design Team
has created, and to join us for the challenge! TFL, and hope everyone has a chance to craft today :O)