Hi Everybody!
Today is a great day, because not only is it my
Timeless Twine
Design Team day.....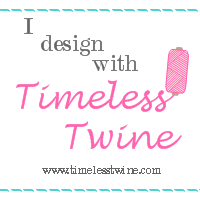 it's also Mickey and Friends Monday here on my blog!
So the project I have to share with you today is doing double duty :O) Here are the details for my crafty creation:
*Elmo Party Cricut cartridge = hat and hat layer (blue)
*patterned paper from my stash
*Stickles in various colors
*white gel pen for detailing
*Using them Elmo Party cart, I cut the hat, and blue layer.
*I absolutely love that there are so many different colors of twine to choose from! I was able to make this colorful pom pom for the top of my party hat really pop with all the different colors :O)
*To make the top pom pom, I took all five colors at once and made a bow with them using my
Unity Bow maker
.
*Then I just cut the ends of each side of the bow.
*I wanted it a little fuller, so I folded both ends of the bow together, and spread them out a little bit.
*For the pom pom that's in front, I again made a bow, and just cut the ends.
*I did use a little bit of hairspray for this "photo shoot" to keep all the ends where I wanted them :)
*To attach them to the party hat, I used a 3D pop dot (these are thicker and "beef-ier").
*I stamped the sentiment on the hat layer, and added some detailing with a white gel pen.
*Then I added a dot of Stickles in the middle of each dot on the patterned paper. I also added some to the bottom layer.
Isn't that such a cute sparkly hat?! Other than the drying time for the Stickles, these don't take long to make at all. TFL, and have a twine-tastic and Magical Monday!!