Welcome to the Jaded Blossom Birthday Blog Hop! f you're here from Kate then you're in the right place, if you're just passing thru make sure you head back to the Jaded Blossom Blog so you can start this party from the beginning! I also have the complete line up at the bottom.
Jaded Blossom is also announcing the New and Returning Design Team as well as our 2013 Jan - June Guest Designers, so make sure to check that out.
If you missed my projects this week here is the highlight of it:
Day 1
HERE
Day 2
HERE
Day 3

HERE
Here is what I made for the blog hop:
*Jaded Blossom -

flag dies

,

Number Candies

stamp set

,

Hello Cupcake stamp set (from the birthday kit)

,

party straws
*Tags, Bags, Boxes, and More 2 Cricut cartridge - cupcake shaped treat box
*Martha Stewart - glitter
*I did a little masking, and covered this cute cupcake in glitter!
*My daughter is having a birthday soon, so I'm practicing her treats already :)
Jaded Blossom Stamps I used are:
Here is our Awesome Limited Edition Kit for Sale. Stamp Sets will NOT be sold individually until sometime next year and Gem color will vary.

Kits are $49.99 and that includes PRIORITY SHIPPING to anyone in the US. Also, free shipping on the rest of your order when you purchase the Birthday Celebration Kit, use coupon code BIRTHDAY
Kit Includes: Hey Cupcake 4x6 Stamp Set, Sweet Birthday Wishes 4x6 Stamp Set, 5 calendars and coasters, 10 Itty Bitty Bags (5 in each color), 1 yard Red Burlap, 1 yard Pink Jute Ribbon, 1 set of Gems (color will vary) and 1 6x6 Simple Stories Snap Color Vibe paper pack.
Just in case you didn't know we also have a Facebook page called Jaded Blosson's Garden of Creativity where our fans share their creations with one another so join up and get inspired.
"Like" our Facebook Pageand of course be a follower of the Jaded Blossom Blog.
Now how about some Blog Candy to be won: a "Sample" size of the New Pink Limeade Sponsored by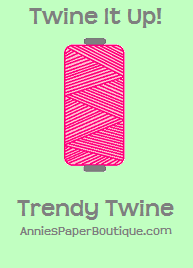 Trendy Twine
Here is what the Twine looks Like
*A Package of Jute and Burlap Fiber Ribbon 1 yrd of each color
*6 x 6 Birthday Pad
*A set of 5 calendars with coasters
Leave a comment on each blog and of course let us all wish Jaded Blossom a Very Happy Birthday!
"Like" our Sponsor (Trendy Twine) Facebook Page
Now time for the Blog Hop.... Next up is
Michelle

!!
Here's the entire line up:
Jaded Blossom Blog
Candace
Abby
Jamie
Crystal
Kim
Kate
Jenny
Michelle